Compliance
Positioning compliance as a focal point of management policy, we are promoting activities to ensure thorough compliance in order to act fairly and honestly. It is one of our duties to act fairly and honestly according to our ethics and our legal responsibilities, as a member of society.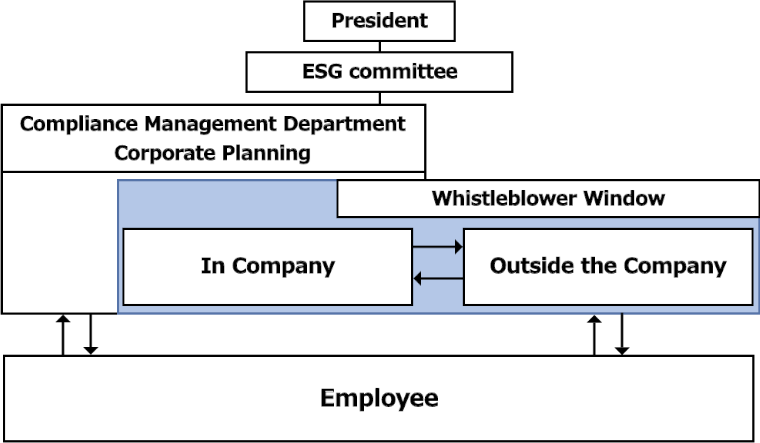 Development of a security export control system
Recognizing that security export control is an important responsibility for companies with overseas transactions, Seika's actions are based on laws and regulations that reflect the international framework for security (export control regime). We have an export control system for cargo and technology that is the same system used for weapons and military purposes.
When exporting products and technologies, we pay close attention to the classification and transaction examination based on the "Security Export Control Regulations".

BCP (Business Continuity Plan)
Seika has formulated a BCP (Business Continuity Plan) in order to improve its response capabilities even in the event of varied threats such as the occurrence of a large-scale natural disaster or the outbreak of a new infectious disease pandemic, and we are working to strengthen our business continuity based on the "Business Continuity Basic Policy".
Business Continuity Basic Policy
The Seika Group (hereafter referred to as "our company") has "contributing to a better society by providing cutting edge technology and products" as one of its management principles, and manufactures aromatic diamines, which are raw materials for high performance resins. Moreover, our company supplies important products that are indispensable to the production process of products in a wide range of fields that contribute to social life and social development, such as information and electronic equipment, passenger planes, and cars.
Our company strongly recognizes that it is an important social responsibility for us to continue to provide a stable supply of these products to our business partners through our excellent technological capabilities.
To this end, our company has formulated a business continuity plan (BCP) and will continue to carry out company-wide improvement activities, in order to secure and strengthen our responsiveness, as an organization, so we can quickly restore and restart business operations after a disaster or crisis such as a large-scale earthquake. Such an earthquake is expected to eventually occur at important business bases. In this way, we can fulfill our responsibilities, while ensuring the safety of employees and the community in any circumstance.